Stone Thrower Pig is a pig in Angry Birds Epic : Monty's Revenge.
Stone Throw : Deals 123 damage to a bird.
Stone Rain : Deals 213 damage to all birds.
Stone Defense : Protects a pig . The bird who attacks the targeted pig will be stunned.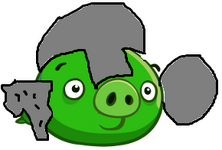 This is the first pig article in the wiki!
This page is made by Bad Piggy 9000. You can edit this page but don't spam it.