Ice Prison - 2 is a level in Angry Birds Epic: Daily Life.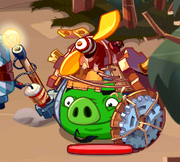 muvbho
su nombre

Clock of the Cock: Deals 256 damage.

Redomization: Target takes -200 damage for 3 turns.



Poisonous Fish: Deals 3x38 damage. Target takes +129 damage for 3 turns.

Red Lay: If Red is available, Foreman charges 2 turns and deals 436 damage to Red.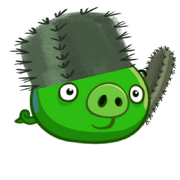 x3
Cacti Slash

Deals 105 damage to a bird. The targeted bird will take 205 damage every turn
Unbeatable Cactus

Deals 503 damage to the bird who damages the targeted pig.
Dirty Tricks

Immune to harmful effects.
Select Red in Capt'n, Matilda in Jokepayer and Tony in Fisherman.
Attack with Red and Matilda to Cactus Pig(s). Then, make Catch of the Day with Tony (in which dealt and taken damage is reduced by 10% for 2 turns). After killing all cactus pigs, attack to young foreman. Always attack with Tony. After beating young Foreman, Do Red's Saving The Ship in the bird which has the lowest life and then, always attack with Tony and Red and heal with Matilda.
Daily Life Levels
Cobalt Plateus
Pig Prison
Cobalt Damage
Eastern & Western Cobalt Damage
Rogue Neighbourhood
Sea Out
Pirate Sea
Blue Lay
Ice Road
Slide in Ice
Ice Prison
Ice Island
Canyon Land
Snowy Peak
High Mountain
Rainy Lakes
Darth Absorb
Dark Trap
Darth Vader Islands
Darth Vader's Base
Up to the castle
Slingshot Cave

Silver Moving
Gold Block
Shaking Cave
River Fortune
Single Player
Capt'n's Hidout
Medieval Contrast
New Training
Captain Red Beard's Secret Cave
Secret Pig Factory
Golden Cave
The Final End
Uncharted Plains

Ice Underbattle
Special Levels
Key: Blue = Normal Battle; Green = Wave Battle; Red = Castle; Black = Dungeon; Purple = Special Level