Darth Vader's Base - 1 is a level in ABEMR.
Cutscenes (On the Map)
Edit
Before the Level
Edit
Darth Vader becomes angry. He calls his Darth Knights to defeat the birds. The birds became angry.
After the Level
Edit
Darth Vader becomes more angry and he tells his Ghost Troopers to attack the birds.
Difficulty
Edit
8. Really Hard
Pigs in this level has a lot of health.

| | |
| --- | --- |
| | Health |
Gun Shot

Deals 1562 damage to a bird.
Headbutt

Deals 2734 damage to a bird. Charge 2 turns.
Dirty Tricks

Immune to harmful effects.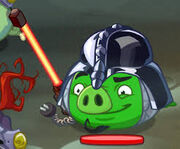 | | |
| --- | --- |
| | Health |
Lightsaber Slash

Deals 1923 damage to a bird.
Call Troops

Calls 2 Darth Knights. Charge 3 turns.
Ironclad

Dodges attacks less than 563.
Strategy
Edit
Strategy 1
Edit
Required Birds and Pig Allies : Red as Avenger, King Pig as Gold King and Bomb as Cowbird
Use I Dare You on King Pig also use Double Counter to King Pig. Use King Pig's Golden Overpower Badge to himself. When the pigs attack King Pig they will be damaged because King Pig has Double Counter that is stronger because of the Golden Overpower Badge. Use the Golden Overpower Badge to Bomb. Attack the Darth Knight using Bomb. Finish the Darth Knight using Red. After the pigs attack. Use I Dare You on Red and use Double Counter and Golden Overpower Badge on Red. All the pigs will be defeated if they attacked Red.
Add more!
Monty's Revenge Levels (Jedi Egg)
Darth Vader Islands
Darth Vader's Base
Darth Hills
Sith Lands
Vader Hills
Special Levels
Key: Blue = Normal Battle; Green = Wave Battle; Red = Castle; Black = Dungeon; Purple = Special Level