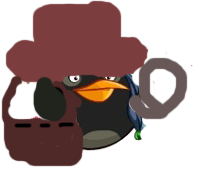 Cowbird is a special class of Bomb in Angry Birds Epic.
Speed Whipsplash - Deals 213 damage to a pig. The targeted pig will deal 56 damage for 3 turns.
Double Counter - The targeted bird will attack an enemy twice when damaged.
Explode : Deals 902 damage to all enemies.
Crazy Cowbird
Edit
The Crazy Cowbird is a better Cowbird but it is in the Pork Side.
See Crazy Cowbird for more information
It is Bad Piggy 9000 first article in this wiki.
This is the first bird article in the wiki!

This page is made by Bad Piggy 9000. You can edit this page but don't spam it.