Bamboo Leader is a pig created by Bad Piggy 9000. It is a pig in ABEMR.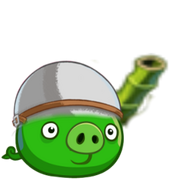 Bamboo Stun

Deals n damage to a bird. The targeted bird will be stunned
Bamboo Rage

All Bamboo Fighters (and himself) will attack the birds. Charge 2 turns
Bamboo Call

Calls 2 Bamboo Fighters. Charge 2 turns.
He appeared in a future episode of the Animated Series. But his first appearance is in the Through the Dark Prison episode. He is hiding in some bushes.
It is Bad Piggy 9000's third favorite pig creation.
There are many Bamboo Leaders.