Bamboo Fighter is a pig created by Bad Piggy 9000. It is a pig in ABEMR.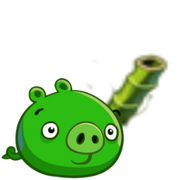 Bamboo Fight

Deals n damage to a bird. All birds will only attack the Bamboo Fighter.
Bamboo Aid

Heals n damage. The targeted pig will receive n health everyturn.
Dirty Tricks

Immune to harmful effects.
He will appear in an episode in the Animated Series. Maybe on Season 3.
It is Bad Piggy 9000's second favorite pig creation.
It has a bigger and better version called Great Bamboo Fighter.